At this time, leave accrual of Sick and Annual is maintained by the Administrative Assistant. Each employee will be sent a link to viewing the file. Leave is updated when time sheets are received.
How to view the file –
Keep the email. The link will work only for you.
OneDrive – Log into onedrive.com with your email and password
In the left hand menu – there this a link for items that have been shared with you.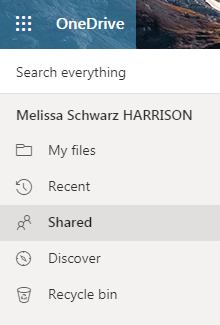 3. Your computer* – If you have a dedicated workstation where you are logged into the office products, you can open Excel and see the option: