1000 Books Before Kindergarten | 100 Books Before High School | Book Ideas
Did you know that reading to your child is one of the most effective ways to boost their brain power? The simple and enjoyable act of sharing books helps your child understand the sounds letters make, develop a bigger vocabulary, and build background knowledge—all important skills that will help prepare your child for kindergarten and for learning to read. Reading together from the beginning builds the foundation for a lifelong love of reading and learning.
Tips for Reading with Preschoolers
Read together every day
Try using different voices and expressions that match the characters' emotions
Read slowly so that your child can take in the story and look at the pictures
Pause to ask questions and talk about the pictures
Ask your child to help you read and to point to words on the page
Let your child choose books they like
Know when to stop. If your child loses interest or has trouble paying attention, it's ok to take a break
Enjoy your time together!
Library tools and Services
Your library can help you open the door to the world of reading for your child. Cards are free for residents of the six coastal counties. There are several card options, including the Read + Succeed card for families (no fines!) and the ecard if you just want digital materials and services. Read more about how to get a card here.
Each library in the Harrison County Library System offers regular storytimes, Summer Reading programs, and other children's programming. See our calendar for more details.
If you'd like the weekly events emailed to you, you can find a signup link for our email newsletter on the main page as well.
Each branch has a large variety of children's books and audio materials. Our Hoopla app offers digital books and audio for children that can be downloaded from anywhere. The free streaming service Kanopy provides extensive children's materials, such as PBS programming, and you can access it with your library card as well. View the Eservices tab on our homepage for more details.
Each branch also has a Children's Librarian on staff to help you with any questions you have about selecting items for your child.
1,000 Books Before Kindergarten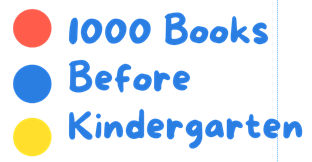 Our Library System participates in the 1,000 Books Before Kindergarten program that encourages families to read together and to track their progress. Families complete the program receive prizes for reading milestones and a certificate and prize on completion.
You can pick up a tracking log at your branch or print one here.
You can sign up here https://forms.gle/vCcJQeciYYRnW4t89.
100 Books Before High School (for children first grade and up)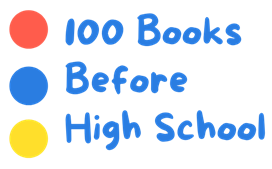 Our Library System also has a 100 Books Before High School program for children first grade and up. Like the 1,000 Books program, families read together and track their progress. Readers completing the program milestones receive prizes. You can sign up here https://forms.gle/NENbpzSjbGA7pr2Y7
You can pick up a tracking log at your branch or print one here
Additional Tools
There are many resources online to help inspire you. Here are a few places where you can find great information on your child's development needs.
PBS: https://www.pbs.org/parents/thrive/why-reading-aloud-to-kids-helps-them-thrive website, shows, tips
Vroom: https://www.vroom.org/ website and app with simple tips on nurturing learning
https://talkingisteaching.org/ website with more tips and information about early learning
Reading Bear https://www.readingbear.org/ a wonderful, free tool for learning phonics building blocks
Book Ideas
Ages Birth to Toddler
Keep in mind that just spending time with your child and reading is the most important part of reading together, so don't worry about picking the "right" books. However, sometimes it's hard to choose, so here are some short and fun books that you both will enjoy. Please don't hesitate to ask our staff for help with suggestions. Hoopla also has a collection of suggested books for the 1,000 Books program.
Books by Sandra Boynton, such as The Going-to-Bed Book
The Llama Llama series by Anna Dewdney
Ten Little Fingers and Ten Little Toes by Mem Fox, illustrated by Helen Oxenbury
First One Hundred Words (also available in other languages)
Shades of People by Shelly Rotner and Sheila M. Kelly
Chicka Chicka Boom Boom by Bill Martin, Jr., and John Archambault, illustrated by Lois Ehlert
The Pout-Pout Fish by Deborah Diesen, illustrated by Dan Hanna
Preschool
Books by Eric Carle, such as The Very Hungry Caterpillar
Brown Bear, Brown Bear by Bill Martin, Jr., illustrated by Eric Carle
How Do Dinosaurs Series by Jane Yolen
And all the picture books you enjoyed together when your child was a baby!
Kindergarten
Books by Mo Willems
Pete the Cat Books by James Dean
Biscuit Books by Alyssa Satin Capucilli
Clifford Books by Norman Bridwell
Books by Ezra Jack Keats, such as The Snowy Day
Book Ideas for First Grade and Up
Even when your child becomes more and more able to read alone, reading with parents is still important. You can also take turns reading as their skills develop and let them read to you. Remember that reading should be fun and let your child help pick books that interest them.
Read together:
Any books you already enjoy! Children often enjoy reading books again and again, and there's nothing wrong with that!
A few classics to try together:
Charlotte's Web by E. B. White
Winnie the Pooh by A. A. Milne
Mr. Popper's Penguins by Richard Atwater
The Wind in the Willows by Kenneth Grahame
Each child will have different interests, so ask your librarian for help choosing titles.
Beginning Readers
Try our "I Can Read" and "Step Into Reading" series. These simple books are available on a large variety of topics. There are dozens of great series and even more individual titles to choose from, so let your child explore, and ask your librarian for guidance!
A few popular titles:
The "Pigeon" series by Mo Willems
Frog and Toad are Friends by Arnold Lobel
Chapter Books
The Magic Treehouse series by Mary Pope Osborne
Ramona by Beverly Clearly
The A-Z Mysteries by Ron Roy
Additional Tools
Below are some resources to help you help your child continue develop as a reader.
Ask your branch librarian for book suggestions, and let your child explore their favorite topics!
Reading Bear https://www.readingbear.org/ a wonderful, free tool for learning phonics building blocks
Reading Rockets https://www.readingrockets.org/ Check out parent resources and PBS shows here