"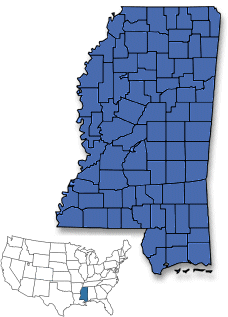 The Magnolia State"
Statehood: December 10, 1817
Capital City: Jackson
Longitude: 88° 7′ W to 91° 41'W
Latitude: 30° 13′ N to 35° N
Area: 46,907 square miles
Population: 2,967,297
Motto: By valor and arms
State Constitution
Symbols
Climate: Moderate, with January's temperature reaching 50°F (10°C) and summer's sometimes stretching to 90°F (32°C). The year-round average is 64°F (18°C).
Economy:
Agriculture – Cotton, poultry, cattle, catfish, soybeans, diary products, rice.
Industry – Apparel, furniture, lumber and wood products, food processing, electrical machinery, transportation equipment.
Geographic Center:Leake, 9 miles WNW of Carthage
Topography:Low fertile delta between the Yazoo and Mississippi Rivers. Loess (buff to yellowish brown loamy deposits left by the wind) bluffs stretch around the delta border followed sandy Gulf coastal terraces, piney woods, and prairie. High sandy hills in the northeast and black prairie belt, Pontotoc Ridge, and flatlands turning north to central highlands.
Area Codes: 228, 601, 662